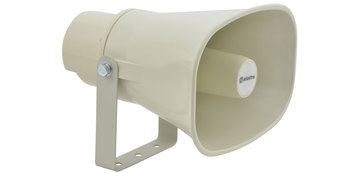 Adastra

Founded in 1949, Adastra has earned a reputation for delivering high quality public address systems. Adastra strives to provide complete and versatile solutions for commercial installations, with specialist products provided for zoning, noise pollution control, portable public address and induction...
See more from this brand...
Rectangular horn speaker, 100V line, 15W rms
Product Code: 952.255
This product is coming soon, and is due to arrive on or near February 1, 2020
Rectangular horn speaker, 100V line, 30W rms
Rectangular shaped 100V line PA horn speakers ideal for general purpose and standard industrial installations. All models are moulded from durable ABS in an ivory colour and fitted with a high perf...
IP ratingIP56
Cable : length350mm
Rotary volume tapping switch
Adjustable steel mounting bracket
100V volume tappings
952.255UK
 
Power rms
15W
 
Frequency response
500Hz - 7kHz
 
SPL @ 1W/1m
100dB
 
Impedance
670, 1.3k, 2.6k and 8 Ohms
 
Tappings
15W, 7.5W, 3.75W and 8 Ohms
 
Dimensions
220 x 158 x 233mm
 
Weight
1.4kg
 
Bulk prices are available on all items, Please login to get bulk prices. Or call 09-8375020 for a price!