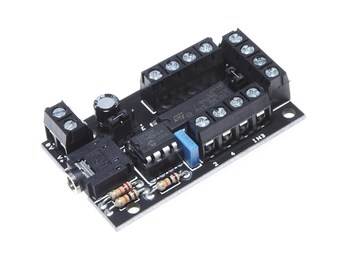 PICAXE

A PICAXE microcontroller is designed to be the brain of your electronic project. Originally designed as an educational system for schools, the PICAXE system has now also been widely adopted by hundreds of thousands of 'hobbyists' due to its ease of use. Each year thousands of high school students to...
See more from this brand...
8 pin Motor driver board
Includes L293D and 08 Chip
Product Code: AXE023
| | | |
| --- | --- | --- |
| Buy 1+ | $34.00 | (incl. GST) |
| Buy 5+ | $32.39 | (incl. GST) |
| Buy 10+ | $30.77 | (incl. GST) |
The motor driver board is a pre-assembled circuit that includes the PICAXE-08 chip and L293D output driver chip. The board can be used to drive four individual On/Off outputs (e.g. buzzers), or the outputs can be used in pairs to allow forward-reverse-stop control of two motors.
Connections are via screw terminal blocks
The project board can be used with any 8 pin PICAXE chip (PICAXE-08 and L293D ICs provided) and can be used with any software application that supports the PICAXE hardware, including the free PICAXE Programming Editor and/or Logicator for PIC Micros software.
PICAXE-08 Motor Driver Board Datasheet PDF Datasheet
PICAXE USB Download Cable Datasheet PDF Datasheet
PICAXE-08M2 Microcontroller Datasheet PDF Datasheet
Bulk prices are available on all items, Please login to get bulk prices. Or call 09-8375020 for a price!