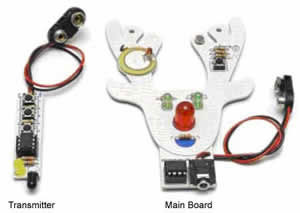 PICAXE

A PICAXE microcontroller is designed to be the brain of your electronic project. Originally designed as an educational system for schools, the PICAXE system has now also been widely adopted by hundreds of thousands of 'hobbyists' due to its ease of use. Each year thousands of high school students to...
See more from this brand...
Rudolf Infra Red Upgrade Kit
Remote control your Rudolf
Product Code: AXE108
| | | |
| --- | --- | --- |
| Buy 1+ | $23.50 | (incl. GST) |
| Buy 5+ | $22.38 | (incl. GST) |
| Buy 10+ | $21.27 | (incl. GST) |
Components for main Rudolf PCB
IR LED020 infra-red receiver
C! 4u7 capacitor
Components for infra-red PCB
R1-3 10k resistor (brown black orange gold)
R4 330R resistor (orange orange brown gold)
R-IR 330R resistor (orange orange brown gold)
LED 5mm yellow LED
IR 5mm infra-red LED (may be clear or black in colour)
SW1-3 miniature 6mm switch
IC1 8 pin IC socket
IC1 PICAXE-08M microcontroller
BT1 battery clip
BT1 4.5V (3xAA) battery box
PCB printed circuit board (NB: supplied with main Rudolf Kit) 
Bulk prices are available on all items, Please login to get bulk prices. Or call 09-8375020 for a price!