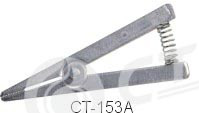 CT Brand

Shantou City Wah Luen Electronic Equipment Co., Ltd. is a research and development, production, sales and service as one of professional electronic equipment manufacturers. Companies from the production of hand tools, semi-automatic tools, to develop and produce automated tools and equipment, With a...
See more from this brand...
Heat Clip, Component Holder
Straight
Product Code: TT0170
This product is out of stock. It will be available soon.
Soldering Heatsink / Component Holder

This quality small tool is ideal as a heatsink when soldering to remove some of the heat from the semiconductor/component while soldering. It can also be used to hold small parts while soldering to avoid burnt fingers.
Bulk prices are available on all items, Please login to get bulk prices. Or call 09-8375020 for a price!