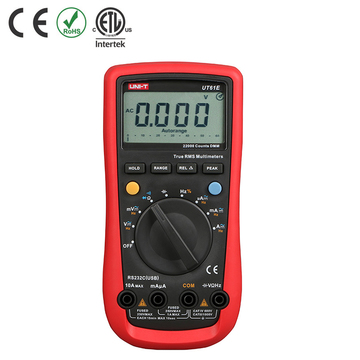 Uni-T

Uni-Trend Technology Limited is one of the leading Test and Measurement solutions provider in Asia, a prestige test meter brand in China. Uni-Trend has gained the ISO 9001 Quality Verification Certificate from LRQA in 1998, and obtained well-known certifications including European CE, American UL, a...
See more from this brand...
Multimeter - Professional Full Range - UT61E
True RMS / CAT IV / Capacitance / Freq
Product Code: TT2510
| | | |
| --- | --- | --- |
| Buy 1+ | $129.00 | (incl. GST) |
True RMS UT 61E multimeter (CAT IV / 600 V) by UNI-T

There is not much this meter will not do. It is our top of the range meter
The UT 61e multimeter offers diverse functions such as: Hold function, max./ min./ relative and peak value to allow for a quick and secure measurement.
In AC current and voltage measurements, the UT 61E multimeter indicates the real effective value (TRUE RMS), it has a frequency range from 45 Hz to 3 kHz, the UT 61E multimeter can measure both capacitance and frequency.

Through the RS-232 port, data can be transferred and stored by means of the software.
The Auto range function is able to automatically search the optimum measurement range, however it can be selected manually. Te UT61E has a clear high contrast backlight LCD display with a indicator up to 22000 to allow for a good reading from any viewing angle even with poor light conditions. It comes with a housing to protect it against harsh conditions
UT61 Series can measure AC/DC voltage and current UT61E has true RMS, resistance, diode, circuit continuity, capacitance, frequency, temperature, hFE, electromagnetic induction, etc.

UT61 Series complies with the standard IEC61010: CAT. III 1000V, CAT.IV 600V; they are widely used in Industrial Production and Service, Technological Research and Design, College Education (Laboratory, Courses), and Automotive Industry.
Features :
True RMS
Real time data logging on PC via RS-232 (Included)
22,000 counts
Large LCD display with analogue bar graph.
Auto / Manual ranging.
Peak value display.
Diode measuring function.
Continuity Buzzer
Data Hold function.
Relative (REL) mode.
Sleep mode at approximately 15 minutes.
Low battery indication.
Input protection.
10 MOhm Input Impedance for DC Voltage Measurement
Specifications
Range
Best Accuracy
Model
 
UT61E
DC Voltage (V)
220mV/2.2V/22V/220V/1000V
±(0.1%+2) 
AC Voltage (V)
220mV/2.2V/22V/220V/750V
 ±(0.8%+10) 
DC Current (A)
200μA/2200μA/22mA/220mA/2.2A/10A
± (0.5%+10) 
AC Current (A)
200μA/2200μA/22mA/220mA/2.2A/10A
±(0.8%+10)
Resistance (Ω)
220Ω/2.2kΩ/22kΩ/220kΩ/2.2MΩ/22MΩ/220MΩ
±(0.5%+10)
Capacitance (F)
22nF/220nF/2.2μF/22μF/220μF/2.2mF/22mF/220mF
±(3.0%+5) 
Frequency (Hz)
10Hz-220MHz
±(0.01%+5) 
Features
Display Count
 
22000
Auto Range
 
√  
True RMS
 
√  
Bandwidth (Hz???
 
45Hz ???10kHz
Duty Cycle
0.1% ??? 99.9% 
√  
Diode
 
√  
Continuity Buzzer
 
√  
Low Battery Indication
≤7.5V
√  
Data Hold
 
√  
Relative Mode
 
√  
Peak Value
 
√  
RS-232
 
√  
LCD Backlight
 
 NO
Analogue Bar Graph
 
46
Input Protection
 
√  
Input Impedance for DCV
Around 10MΩ
√  
General Characteristic 
Power
9V Battery ?6F22) 
LCD Size
65mm X 43 mm
Product Color
Red and Grey 
Product Net Weight
370g 
Product Size
180mm X 87mm X 47 mm 
Standard Accessories
Battery, Test Lead,Muli-Purpose Socket,RS-232 Interface Cable,PC Software CD
Standard Individual Packing
Gift Box, English Manual 
Info / Manual
---
---
Bulk prices are available on all items, Please login to get bulk prices. Or call 09-8375020 for a price!