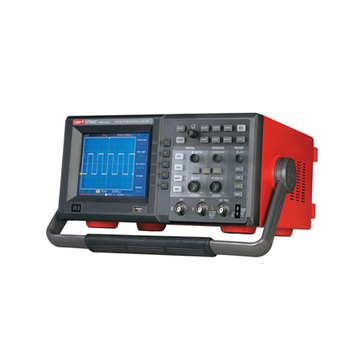 Uni-T

Uni-Trend Technology Limited is one of the leading Test and Measurement solutions provider in Asia, a prestige test meter brand in China. Uni-Trend has gained the ISO 9001 Quality Verification Certificate from LRQA in 1998, and obtained well-known certifications including European CE, American UL, a...
See more from this brand...
Digital Storage Oscilloscope - UT3042C
40 MHz Full Colour - SALE PRICE
Product Code: TT3340
| | | |
| --- | --- | --- |
| Buy 1+ | $799.00 | (incl. GST) |
---
Digital Oscilloscope(color) - UNI-T UT3042C.

This Digital Oscilloscope is easy to read with the colour LCD display. Each channel has larger data transmission capacity. Multiple functions, level and vertical position can be adjusted accurately. Multiple frequency spectrum analyse and observe functions.
Was $999 , Save $200 limited Stock !!

Sampling mode:

The real-time sampling: 500MS/s
The equivalent sampling: 25 GS/s
The average: 2-256 to choose
Input:

Input coupling: DC/AC/GND
Input impedance: 12% MΩ with 243pF parallel connection
The average: 2-256 to choose
Detector attenuation coefficient setting: 1*/10*100*/1000*
Max input voltage: 400V
Channels insulation: more than 40:1
Delay time: 150ps
Level:

Waveform inner margin: Sin(x)/x
Memory capacity: 1M sample
Sweep range: 10nS/div-50s/div,1-2-5(40MHz); 5nS/div-50s/div,1-2-5(60/80/100MHz); 2nS.div-50s/div,1-2-5 (150/200MHz).
Sampling rate and delay time precision: 100ppm
time interval and measure precision: each: (1 sampling interval 100ppm*display number 0.6ns)>16 average:(1 sampling interval 100ppm*display number 0.4ns)
Uprightness:

Simulation digital translator(A/D): 8 bit resolution, the dual-channels sample at the same time
The deflection(V/div): 2mV/din-5V/din
The average: 2-256 to choose
Displacement range: 10div
Simulation band width: 40MHz
Minimum 16 bit color dispaly card
The optional simulation band width limit: 20MHz
Low frequency response ≤10Hz(BNC)
Rise time: ≤8.7ns
DC plus precision: 2mV,5mV/div: 4%; 10mV/div-5V/div: 3%
DC meassure precision (at average sampling mode): vertical displacement is zero and N>16: (4%*dispaly numner 0.1div 1mV); vertical deflection>5mV/div: N>16: 3%*dispaly numner 0.1div 1mV)
Voltage and measure precision: (3%*display number 0.05div)
Spring:

Sensitive: DC-10MHz 0.5div 10MHz_band width 1 div
Spring range: inner: to the center of the screen: 10 div EXT:1.6V EXT/5:8V
The precision apply to the rise and down>20ns single: inner: (0.3div*V/din)(to the center of the screen: 4div) EXT: (6% setting 40mV) EXT/5: (6% setting 200mV)
Pre-spring capacity: normal/scan pre-spring/delay - the depth of pre-spring can be adjust
Release and restrain range: 100ns-1.5s
The electronic balance to 50%: input single frequency>50Hz operation
Edge type: rise and down
pulse width mode: pulse width or the other
range: 20ns-10s
Edge type: rise and down
Video spring:

Sensitve: inner: 2div EXT: 400mV EXT/5: 2V
Single system: NTSC and PAL, 1-525(NTSC) and 1-625(PAL)
Alternation spring:

CH1: edge, pulse width, video
CH2: edge, pulse width, video
Measure:

Cursor: manual: voltage and time, reciprocal(Hz); track: the voltage and time of waveform internal
Automatic measure: about 20 kinds
Math: add, subtract, multiply, divide, inversion mathematical operator function
Storage waveform: 10 groups 10 settings
FFT: Window: Hanning, Hamming, Blackman, Rectangular; sampling: 1024 points
LISHAYU picture phasic difference 3 degrees
Display:

Display: 5.7-inch LCD display, easy to get clear information
Resolution: 320*240
Contrast: adjustable
Background light: 300nit
Languages on the menu: English and Chinese
Detector compensation:

Output voltage: 3V(max)
Frequency: 1KHz
Interface:

Standard: 1 USB(D); 1 USB(H); 1 RS-232C
Optional: LAN
Power:

Voltage: 240VAC 45Hz to 440Hz, CAT II
Consumption: lower than 30VA
Fuse: 2A, T, 250V


Bulk prices are available on all items, Please login to get bulk prices. Or call 09-8375020 for a price!