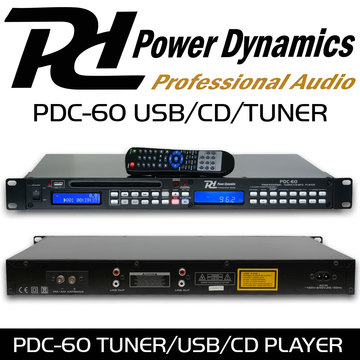 Power Dynamics

Power Dynamics speakers are great for live sound systems, DJ speakers, big speaker systems for pubs, clubs and good, deep bass tones with an optional Power Dynamics subwoofer. Unlike expensive PA systems and brands, Power Dynamics is an affordable option for large PA systems, for big parties, and is...
See more from this brand...
CD Player - FM Tuner with USB - Power Dynamics PDC-60
19 Inch - 1U High - Sale Price !!
Product Code: 172.700
| | | |
| --- | --- | --- |
| Buy 1+ | $299.00 | (incl. GST) |
CD Player - FM Tuner with USB - Power Dynamics PDC-60 
19 Inch - 1U High - Sale Price !! Limited Stocks left.
The PDC-60 is a 1RU single MP3 player that can play MP3's directly off a USB as well as the CD player. It will fit into any 19-inch rack mount case and is only 1RU thick making it ideal for installations in bars, restaurants, cafe's, gymnasium aerobics rooms, etc. It gives you most of the controls that a normal DJ CD player would have includingloop and reloop function, track searching, single and continuous play modes. Additional features that make it perfect for a wider range of uses. You can hook this unit directly into an amplifier to play music. Making it great for gym, aerobics and Zumba classes! Now you have a compact, easy to use music player that requires nothing more than a couple of powered speakers to give you a complete system

    * 19-inch rack mountable (1RU)
    * Comes with cordless remote control
    * Uses any USB or CD's
    * Plays MP3's
    * Seamless loop with reloop system (play last saved loop)
    * Single or continuous play modes
    * Easy to read LCD display shows track name and info
    * Folder / track search feature
    * Pitch bend buttons
    * RCA line out (unbalanced)
    * An ideal solution for anyone looking for a compact music player
    * Single player only - plays one track at a time from USB stick
    * Aerobics or Zumba instructors can pre-record a mix onto a USB stick


    * Anti-shock buffer: 40-seconds
    * Power: 240-volt AC 50Hz
    * Dimensions: 484 x 142 x 45 mm
Bulk prices are available on all items, Please login to get bulk prices. Or call 09-8375020 for a price!