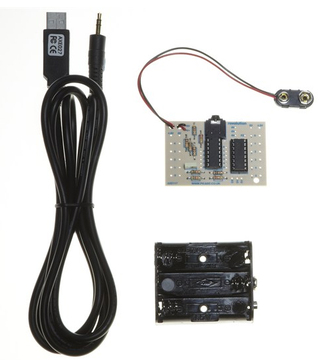 PICAXE

A PICAXE microcontroller is designed to be the brain of your electronic project. Originally designed as an educational system for schools, the PICAXE system has now also been widely adopted by hundreds of thousands of 'hobbyists' due to its ease of use. Each year thousands of high school students to...
See more from this brand...
PICAXE 14M Starter Pack
USB Lead
Product Code: AXE004U
This product is out of stock. It will be available soon.
Product Details
This PICAXE-14M Starter Pack (AXE004U) is a self-assembly kit, based on the PICAXE 14M2 Microcontroller. The starter pack is targeted at schools and general educational purposes, but the open design also makes it very useful for hobbyists to use it as a project board, or for any one who wants to self study, or learning by experimenting.
The 'starter pack' includes both a training board, download cable and a battery box. The software needed is free, so all extra you need to get started, is a computer and batteries. Furthermore, free training resources and tutorials are provided in the PICAXE manual (Part 1 - Getting Started).
The project board comes with assembly instructions, and when completed, the board will contain the following:
IC socket (to easily replace the PICAXE-14M2)
All necessary extra components for the PICAXE-14M2 to operate Darlington driver buffer chip, that enables you to connect higher power output devices (such as motors, solenoids, relays) directly to the board (current up to 500mA)
All required software is now available from www.picaxestore.com
Specification
| | |
| --- | --- |
| Pack size | 200x290x40mm |
| Pack weight | 143g |
Pack Contents:
| | |
| --- | --- |
| AXE117K | PICAXE-14 Project Board |
| AXE017M2 | PICAXE-14M2 Microcontroller |
| BH0062 | 4.5V Battery box |
| AXE027 | USB Download Cable |
|   |   |
Bulk prices are available on all items, Please login to get bulk prices. Or call 09-8375020 for a price!