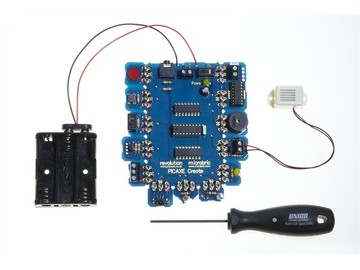 PICAXE

A PICAXE microcontroller is designed to be the brain of your electronic project. Originally designed as an educational system for schools, the PICAXE system has now also been widely adopted by hundreds of thousands of 'hobbyists' due to its ease of use. Each year thousands of high school students to...
See more from this brand...
Create Starter Pack
Product Code: PICBOT115
| | | |
| --- | --- | --- |
| Buy 1+ | $95.00 | (incl. GST) |
Product Details
The PICAXE Create System is based around a PICAXE-18M2 Motherboard and various input/output modules which connect to the motherboard using patented 'micro-bric' connectors. These connectors, tightened and loosened with the supplied Allen key, are used to connect the various input/output modules to the 13 available motherboard connectors. When the bolts are tightened the plastic brics create both a strong mechnanical and electrical joint, so that various circuit configurations can easily be built and adjusted by just swapping modules around - no soldering required to reconfigure the system!
Once the input/output modules have been configured as desired the motherboard can be programmed via any software that supports the PICAXE system such as Programming Editor or Logicator.
The starter pack contains:
PICAXE-18M2 Motherboard
Microbric connectors and Allen Key
Touch sensor input
Push switch input
Slide switch input
DS18B20 Temperature Sensor input
LDR input
Infra-red Input
Terminal block generic connector
Infra-red output
Piezo output
LED output
Darlington transistor output (e.g. for buzzer)
L293D reversible motor driver output
Servo Output connector (purchase GBX013 servo separately)
SRF005 Ultrasonic Range Finder connector (purchase SRF005 separately)
Serial LCD connector (purchase AXE133 Serial LCD or AXE133Y Serial OLED separately)
The motherboard is supplied fully assembled, the input/output modules require soldering before first use. Once initially assembled (by the teacher) the students do not need to do any soldering to assemble, disassemble or reconfigure the system - all changes are made using the supplied Allen key.
All modules are also fully compatible with the BOT120 Microrobot, which uses the same microbric connectors. Naturally input/output modules can also be shared between multiple systems.
Fore more details about the PICAXE Create system please see the PICAXE Create information page.
Bulk prices are available on all items, Please login to get bulk prices. Or call 09-8375020 for a price!