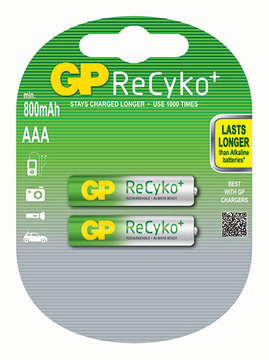 GP

ince its establishment under the Gold Peak Group in Hong Kong, GP Batteries has rapidly expanded to become one of the world's major suppliers of primary and rechargeable batteries. It is one of the largest consumer battery manufacturers in China. It supplies an extensive range of battery products to...
See more from this brand...
GP RECYKO Rechargeable AAA (2 pack)
820MAH 1.2V
Product Code: BAT0770
| | | |
| --- | --- | --- |
| Buy 1+ | $11.50 | inc. G.S.T. |
| Buy 5+ | $10.93 | inc. G.S.T. |
| Buy 10+ | $10.00 | inc. G.S.T. |
---
GP ReCyko represent the next generation in rechargeable technology as they give superior charge retention over standard rechargeables, meaning longer life between changes. Fully charged and ready to use out of the pack, they can be used wherever AAA batteries are used.
High capacity AAA – 850 mAh (up to 40% more power than a standard alkaline battery)
Pre charged – instant use straight from the pack
Stay charge/ Always ready - batteries retain their charge even when not in use
Superior charge retention – up to 80% after 1 year unused compared to standard rechargables 20% retention
Excellent high AND low drain performance – combining the benefits of alkaline and standard rechargeable batteries
Up to 1000 recharge cycles – massive cost saving over standard batteries
Supplied in GP retail packs
Best for - DECT Cordless phones, Digital Cameras, PDA's, MP3/CD Players, Shavers, Electric Toothbrushes, Radio Controlled toys, Tools, Toys and Games
Also known as - LR03, 24A, 24AC, 4003, 824, AAA, AM4, E92, K3A, MICRO, MN2400, ND61R, R03
<span style="FONT-FAMILY: Arial; COLOR: #444444;
Bulk prices are available on all items, Please login to get bulk prices. Or call 09-8375020 for a price!