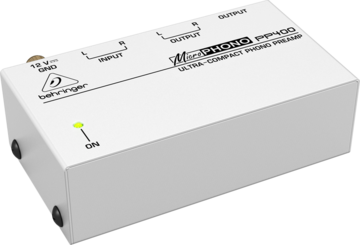 Behringer
Behringer is an audio equipment company founded by Uli Behringer in 1989, in Willich, Germany. Behringer was listed as the 14th largest manufacturer of music products in 2007.[3] Behringer is a multinational group of companies, with direct marketing presence in 10 countries or territories and a in a...
See more from this brand...
Behringer PP400 Ultra-Compact Phono Preamp
Product Code: BEPP400
| | | |
| --- | --- | --- |
| Buy 1+ | $69.50 | (incl. GST) |
MICROPHONO PP400
Ultra-Compact Phono Preamp

Converts your phono signal to a line level signal
State-of-the-art phono preamp to accommodate all magnetic pickups
Dedicated RCA and1/4" TRS output connectors
DC 12 V adapter included
High-quality components and exceptionally rugged construction ensure long life
3-Year Warranty Program*

Conceived and designed by BEHRINGER Germany
    
In the present age of the mp3 and other digital audio formats, it can be easy to forget that turntable signals needs a little help before your mixer, or home entertainment system, can bring those memories back to life. Thanks to the MICROPHONO PP400 phono preamp, your turntable will get the boost it needs, and you can relive all those precious memories – or create some new ones!

Long Live Vinyl
The ultra-compact PP400 features stereo RCA Inputs and Outputs, as well as a ¼ " TRS Output jack. Thanks to the PP400's incredible low-noise operation, your vinyl records deliver sound exactly as it's read from your turntable's needle. We've also included the 12 V adapter you'll need to power this awesome little gem.


    
Do Wonders For Your Wax
Vinyl is making a huge comeback, and it's time to get your wheels (or records) spinning. Just connect your turntable into the PP400, send a line out to your mixer or the Aux inputs on your home stereo – and take a spin on the freeway of retro-cool. For about the price of a couple of prerecorded CDs, you can experience the high-fidelity sound of real vinyl – the medium that single-handedly launched the rock 'n' roll revolution! See your BEHRINGER dealer, or place your order online today – and take a stroll down Memory Lane!
Info / Manual
---
Bulk prices are available on all items, Please login to get bulk prices. Or call 09-8375020 for a price!