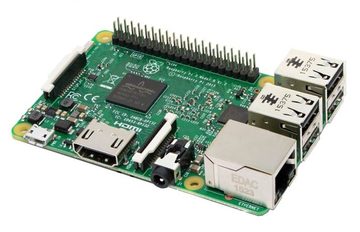 Raspberry Pi

The Raspberry Pi Foundation is a registered educational charity (registration number 1129409) based in the UK. Our Foundation's goal is to advance the education of adults and children, particularly in the field of computers, computer science and related subjects....
See more from this brand...
Raspberry Pi 3 Model B+ (New Model)
Credit-Card Sized Computer Board
Product Code: RPI0105
| | | |
| --- | --- | --- |
| Buy 1+ | $69.50 | inc. G.S.T. |
---
The Raspberry Pi 3 Model B+ is the latest product in the Raspberry Pi 3 range,boasting a 64-bit quad core processor running at 1.4GHz, dual-band 2.4GHz and 5GHz wireless LAN, Bluetooth 4.2/BLE, faster Ethernet, and PoE capability via a separate PoE HAT.
The dual-band wireless LAN comes with modular compliance certification, allowing the board to be designed into end products with significantly reduced wireless LAN compliance testing, improving both cost and time to market.
The Raspberry Pi 3 Model B+ maintains the same mechanical footprint as both the Raspberry Pi 2 Model B and the Raspberry Pi 3 Model B.
OBSOLESCENCE STATEMENT
The Raspberry Pi 3 Model B+ will remain in production until at least January 2023.
NOTE: You will need to download the latest version of NOOBS / Raspbian for this board to function. Older versions will result with a "Rainbow Screen" along with a "Lightning Bolt" symbol.
The newest version of NOOBS (Offline and network install) is 2.7.0 which was released on 14/03/2018. Download link: HERE.
The newest version of RASPBIAN (Image with desktop based on Debian Stretch) is 4.9 which was released on 13/03/2018. Download link: HERE
Specifications
Processor
Broadcom BCM2837B0, Cortex-A53 64-bit SoC @ 1.4GHz
Memory
1GB LPDDR2 SDRAM
Connectivity
 - 2.4GHz and 5GHz IEEE 802.11.b/g/n/ac wireless LAN, Bluetooth 4.2, BLE
 - Gigabit Ethernet over USB 2.0 (maximum throughput 300Mbps)
 - 4 × USB 2.0 ports
Access
Extended 40-pin GPIO header
Video & sound
 - 1 × full size HDMI
 - MIPI DSI display port
 - MIPI CSI camera port
 - 4 pole stereo output and composite video port
Multimedia
H.264, MPEG-4 decode (1080p30); H.264 encode
(1080p30); OpenGL ES 1.1, 2.0 graphics
SD card support
Micro SD format for loading operating system and data storage
Input power
 - 5V/2.5A DC via micro USB connector
 - 5V DC via GPIO header
 - Power over Ethernet (PoE)-enabled (requires separate PoE HAT)
Environment
Operating temperature, 0-50°C
Compliance

For a full list of local and regional product approvals, please visit http://www.raspberrypi.org/products/raspberry-pi-3-model-b+
Bulk prices are available on all items, Please login to get bulk prices. Or call 09-8375020 for a price!