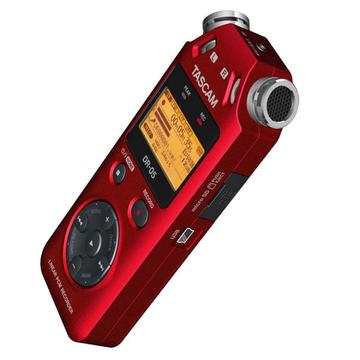 Tascam

We can get the whole range, just tell us if you want anything. TASCAM is the professional audio division of TEAC Corporation, headquartered in Montebello, California. Tascam is credited as the inventor of the Portastudio, the first cassette-based multi-track home studio recorders. Tascam also the...
See more from this brand...
TASCAM DR05MK2 Portable digital recorder
Limited Edition Metalic Red Finish
Product Code: TAS-DR-05M2R
This product was discontinued on March 2, 2020.
Simple-to-use 24-bit/96kHz Digital Recorder with Omnidirectional Microphones


Features at-a-glance
Stereo condenser microphones for lively, high-quality sound and high-resolution recording
Proven high sound pressure design for capturing loud sounds of up to 125dB SPL, making it ideal for loud band recordings
Peak reduction function that detects peaks and automatically sets the optimal level
Self timer recording function
Seamless gain control
Three low cut filter levels that cut unnecessary low frequency noise such as from air conditioning equipment(40/80/120Hz)
Speed change (VSA) function for adjusting the speed from 0.5 to 1.5 times (in 0.1 increments), which is great for practicing music and language study
Level align feature that prevents uneven volume levels
Equalizer setting for adjusting playback sound quality
Divide/delete functions
Loop/repeat playback function that is convention for practicing music and studying languages
Resume function that retains the last stop position and starts playback from that position when power is turned back ON
Jump back and play that skips back a preset number of seconds during playback (1 to 10 sec in 1 sec increments, 10 sec, 20 sec, 30 sec)
QUICK menu button for easy access to various functions
High-quality 24-bit/96kHz WAV/BWF linear PCM recording and long recordings as MP3 files possible
microSD/microSDHC cards can be used as recording media
A 4GB microSD card is included. Up to 149 hours of recording is possible with the included card (MP3 at 32kbps)
Mark function that can set up to 99 points for a single track Mark information can be utilized by BWF compatible software
Audio files created on computers can be played (Only in formats compatible with this product)
Built-in monaural speaker with an output of 0.3W
Pre-recording buffer that can record up to 2 seconds prior to starting recording
When a predetermined maximum file size is reached, a new file is created to continue recording
Track increment creates new files at arbitrary locations during recording
File name format can be set to use a user-defined word or the date
The first six characters of the file name for recording can be set freely
Playlist function
A chromatic tuner is equipped which is helpful for practicing musical instruments
Stereo mini headphone jack for external stereo microphones (provides plug-in power) / External line input
Stereo mini headphone line output / Headphone output connector
128×64 pixel graphic LCD with backlight
High-speed file transfer to a computer is possible using USB 2.0
Powered by 2 AA batteries, USB bus power, or optional AC adapter (PS-P515U)
Mini USB cable included
Tripod attachment screw-hole built in to the unit
DR-05 SPECIFICATIONS
Recording media
microSD card (64MB to 2GB), microSDHC card (4GB to 32GB)
File system
FAT16/32
File format
WAV(BWF), MP3
WAV/BWF
 
Sampling frequency
44.1kHz/48kHz/96kHz
Quantization bit rate
16/24bit
MP3
 
Sampling frequency
44.1kHz/48kHz
Bit-rate for recording
32/64/96/128/192/256/320kbps
Playback bit rate
32 to 320kbps, VBR, ID3 tag Ver. 2.4
Number of channels
2-channel(Stereo)
Playback speed control (VSA)
0.5 to 1.5 times (in 0.1 increments) *44.1/48kHz only
Built-in microphone
Omnidirectional, stereo
MIC/EXT IN
 
Connector
3.5mm (1/8") stereo mini jack, Unbalanced, Plug-in power
Input Impendance
25kΩ
Nominal Input Level
-20dBV
Maximum Input Level
-4dBV
PHONES/LINE OUT
 
Connector
3.5mm (1/8") stereo mini jack, Unbalanced
LINE
 
Output Impendance
12Ω
Nominal Output Level
-14dBV(10kΩ load)
Maximum Output Level
+2dBV(10kΩ load)
PHONES
 
Maximum Output
20mW + 20mW(32Ω load)
Built-in speakers
0.3W, Mono
Low-cut filter
40Hz/80Hz/120Hz
USB
 
Connector
Mini-B type
Format
USB2.0 HIGH SPEED
Chromatic tuner
C1 to B6, A4 = 435Hz to 445Hz (in 1Hz increments)
Tripod attachment screw-hole
1/4 inch, Tripod attachment screw-hole
Power
2 AA batteries,
USB bus power,
AC100 to 240V (Optional AC adapter)
Power consumption
1.7W (Max)
Battery operation time
 
With alkaline batteries 
(EVOLTA)
Approx. 17.5 hours (WAV, 44.1kHz, 16bit, using built-in microphone, JEITA)
With Ni-MH batteries 
(eneloop)
Approx. 15.5 hours (WAV, 44.1kHz, 16bit, using built-in microphone, JEITA)
Dimensions
61(W)×141(H)×26(D)mm
2.4"(W)×5.55"(H)×1.02"(D)
Weight
116g / 0.25lb
(Without battery)
Standard accessories
4GB microSD card, USB connection cable, 2 AA batteries for confirming operation, Owner's Manual, Warranty card
Audio performance
Frequency response
20Hz to 20kHz +1dB/-3dB (Fs 44.1kHz, EXT IN to LINE OUT, JEITA)
20Hz to 22kHz +1dB/-3dB (Fs 48kHz, EXT IN to LINE OUT, JEITA)
20Hz to 40kHz +1dB/-3dB (Fs 96kHz, EXT IN to LINE OUT, JEITA)
Distortion
0.05% or lower (Fs 44.1k/4k8/96kHz, EXT IN to LINE OUT, JEITA)
S/N ratio
92dB or higher (Fs 44.1k/48k/96kHz, EXT IN to LINE OUT, JEITA)
Computer compatibilty
Windows
OS
Windows XP, Windows Vista, Windows 7, Windows 8
CPU type/speed
Pentium 300MHz or faster
Memory
128MB or more
USB
USB2.0
Macintosh
OS
Mac OS X Jaguar (V10.2), Mac OS X Panther (V10.3), Mac OS X Tiger (V10.4), 
Mac OS X Leopard (V10.5), Mac OS X Snow Leopard(V10.6.8), OS X Lion(V10.7), 
OS X Mountain Lion(V10.8)
CPU type/speed
Power PC, iMac, G3, G4, G5 266MHz or faster
Memory
64MB or more
USB
USB2.0
Bulk prices are available on all items, Please login to get bulk prices. Or call 09-8375020 for a price!