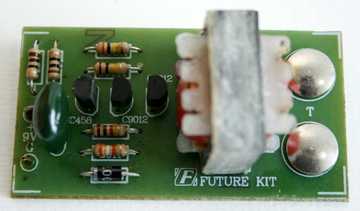 Future Kit

Hobby World Center Co., Ltd. was established in 1985 as an electronic learning kits producer. Since then, it has developed and provided appropriate kits and modules as well as multipurpose boxes, to suit various assigned applications and requirements needed by all electronics lovers.The company has...
See more from this brand...
Kit - Electric Shock Machine
Product Code: FK901
| | | |
| --- | --- | --- |
| Buy 1+ | $10.20 | inc. G.S.T. |
| Buy 5+ | $9.70 | inc. G.S.T. |
| Buy 10+ | $9.20 | inc. G.S.T. |
---
This simple circuit converts 9VDC into a high frequency, high
voltage output as found in most "Shocko" games such as Electric
Shock Roulette or Wrestling Games. Touching the two outputs
will give a tingling but safe shock due to the high circuit
impedance. In class situations, students will use the following
circuit elements. Multivibrator, current amplifier and a
transformer used in low to high turns ratio mode
Detail:
• This electronic circuit will trasform a low voltage of 9v. Batteries into a high enough power shocking effect.
• Recommended housing : FB08
• PCB dimensions : 2.4" X 1.2"
Info / Manual
---
Bulk prices are available on all items, Please login to get bulk prices. Or call 09-8375020 for a price!