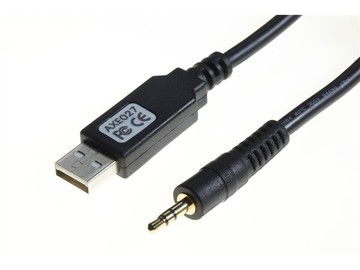 PICAXE

A PICAXE microcontroller is designed to be the brain of your electronic project. Originally designed as an educational system for schools, the PICAXE system has now also been widely adopted by hundreds of thousands of 'hobbyists' due to its ease of use. Each year thousands of high school students to...
See more from this brand...
PICAXE USB Download Cable
USB - 3.5mm Plug
Product Code: AXE027
| | | |
| --- | --- | --- |
| Buy 1+ | $41.40 | (incl. GST) |
Essential purchase! - the PICAXE USB download cable can be used with all PICAXE project boards and chip sizes, so purchase once and then use over and over again with all your PICAXE projects. This cable is also included within the starter packs.
Compatible with Windows, Mac and Linux.
This quality cable is a robust USB to 3.5mm jack plug cable, 1.8m long. The USB<>serial adapter wizardry, based on an FTDI converter chip, is a tiny miniature circuit securely moulded right inside the rectangular USB connector. This USB cable is a 5V logic level device, so works far better than a 'serial cable + universal USB-RS232 adapter' combination when, for instance, calibrating touch sensors with the PICAXE software.
Top Tips!
Always use your AXE027 USB cable in the same USB port on your computer. It will then always retain the same 'virtual COM port' number.
Always insert the AXE027 USB cable before starting the PICAXE software.
On Linux ensure you use the LinAXEpad 'modprobe' button after starting the software.
Driver Installation Instructions (Windows/Linux/Mac) PDF Datasheet
Windows USB Driver (self extracting preinstaller format) v2.08.14 Windows Driver
Windows USB Driver (zip format) v2.08.14 Windows Driver
USB Driver for Mac OSX Intel Mac Intel Driver
USB Driver for Mac OSX Intel PowerPC PowerPC Driver
AXE027 Monitor Gadget for Windows Vista / Windows 7 AXE027 Gadget
Bulk prices are available on all items, Please login to get bulk prices. Or call 09-8375020 for a price!