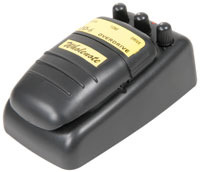 Chord

Launched in 2010 to satisfy the requirements of our music retail partners, the Chord music brand covers everything that a musician could need from guitars and percussion to amplifiers and stands with a multitude of accessories in between. The Chord offering features a fantastic range of guitars as a...
See more from this brand...
Overdrive Effects Pedal
Quality CHORD Brand
Product Code: 173.372
This product was discontinued on July 2, 2020.
OVERDRIVE EFFECTS PEDAL

A versatile unit with a transparent and warm sounding op-amp overdrive which will drive and accentuate the nuances of your guitar and playing style.

    Level control, tone coloration and drive control
    Robust ABS plastic plastic enclosure
    6.3mm input/output sockets

    Powered by battery (supplied) or optional mains adaptor (not supplied)
    Easy to change battery with top load battery compartment

Power supply     9Vdc (1 x PP3, 6F22 battery)
Current     4mA
Input impedance     1M Ohms
Output impedance     >10k Ohms
Dimensions     127 x 76 x 55mm
Weight     308g
Bulk prices are available on all items, Please login to get bulk prices. Or call 09-8375020 for a price!