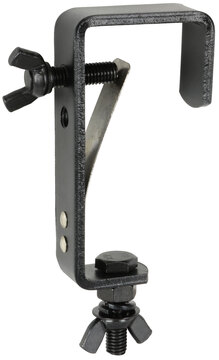 QTX

Launched in 2009, QTX is predominantly a professional lighting brand. Ideal for clubs, bars, schools and theatres, its comprehensive product portfolio covers everything the market demands, from domestic party lighting to cutting-edge effects for installation use. The QTX brand also includes a range...
See more from this brand...
G-Clamp Lighting Mount Hook - Black
Fits on Poles up to 50mm Wide
Product Code: 151.443
This product is out of stock. It will be available soon.
---
MOUNTING HOOK FOR LIGHT EFFECTS
Strong, galvanised hook in straight version, suitable for lighting fixtures and projectors. Fits on poles up to 50mmØ.
Bulk prices are available on all items, Please login to get bulk prices. Or call 09-8375020 for a price!