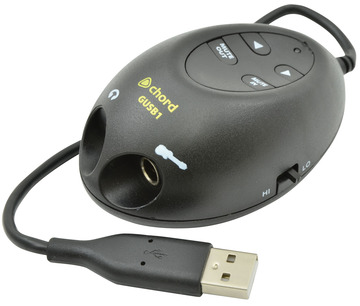 Chord

Launched in 2010 to satisfy the requirements of our music retail partners, the Chord music brand covers everything that a musician could need from guitars and percussion to amplifiers and stands with a multitude of accessories in between. The Chord offering features a fantastic range of guitars as a...
See more from this brand...
Compact Guitar-USB Interface with Soundcard
USB Powered
Product Code: 173.613
This product is out of stock. It will be available soon.
GUSB1 - COMPACT GUITAR-USB INTERFACE
A compact interface with 6.3mm guitar input and 3.5mm headphone output to an integral USB lead for connecting to PC or Mac computer. Features volume and mute buttons, and also a "HI/LO" switch for adjusting guitar input level. Supplied with Cakewalk™ Music Creator LE software for Windows.
•             Plug-and-play compatibility
•             USB bus powered
•             Cakewalk™ Music Creator LE for PC supplied
Power supply    USB
Connections       6.3mm jack in, 3.5mm headphone out, USB A
Controls               Volume +/-, Mute In/Out buttons, HI/LO switch
Lead length        1.4m
Dimensions        85 x 58 x 30mm
Weight              72g
System Requirements:
Hardware - GUSB1
PC Windows 2000 & above
Mac OSX & above
Software - Cakewalk Music Creator LE
Win XP SP3 (32-bit), Vista SP2 (32/64-bit) or Win 7 SP1(32/64-bit)
Intel Core 2 Duo E8200 2.66 GHz or AMD Phenom Quad Core 9750 2.4GHz
2GB RAM
1280 x 800 minimum screen resolution
PDF reader (for documentation)
Active internet connection for technical support and registration
Bulk prices are available on all items, Please login to get bulk prices. Or call 09-8375020 for a price!