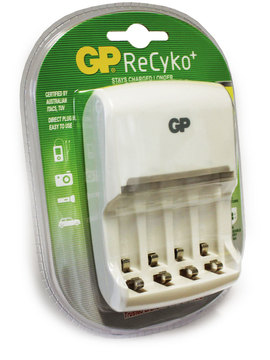 GP

Since its establishment under the Gold Peak Group in Hong Kong, GP Batteries has rapidly expanded to become one of the world's major suppliers of primary and rechargeable batteries. It is one of the largest consumer battery manufacturers in China. It supplies an extensive range of battery products a...
See more from this brand...
GP Battery Charger for Ni-MH batteries + RecyKo Batteries
Charges 2 or 4 x AA or 2 or 4 x AAA Batteries
Product Code: BAT0800
| | | |
| --- | --- | --- |
| Buy 1+ | $16.50 | (incl. GST) |
| Buy 5+ | $15.60 | (incl. GST) |
| Buy 10+ | $15.40 | (incl. GST) |
| Buy 50+ | $13.00 | (incl. GST) |
GP Charger - Recyko AR01 (4 slot)
This unit will charge AA and AAA Ni-MH batteries and the new generation RecyKo Ni-MH batteries
GP ReCyko+, the new generation Nickel Metal Hydride rechargeable battery equipped with innovative battery technology, is the all-in-one solution to modern consumer needs of Convenience, Economy and Environmental Protection.
Convenience
Through the revolutionary technological breakthrough, GP ReCyko+ comes with superior charge retention capability. It is pre-charged and ready to use right after purchase. Once charged, it can retain about 85% capacity after one year of storage. GP ReCyko+ is always ready to use, providing greater convenience to consumers!
Economical and Environmentally Friendly
GP ReCyko+ is suitable for a wide range of applications, from low-drain to high-drain electronic devices. Test result showed that a digital camera using GP ReCyko+ can take 4 times more pictures than when using alkaline battery.

GP ReCyko+ can be recharged and reused up to 1000 times. One piece of GP ReCyko+ is equivalent to 1000 pieces of alkaline batteries. Great savings to consumers and greatly reduce the disposal of primary batteries, GP ReCyko+ is the greenest battery of the 21st century.

Starting today, make battery usage a way of contributing to the environment with GP ReCyko+.
GP ReCyko+ Value Charger AR01
* Modern and esthetic design
* Two LED indicators glow underneath to show charging status
* Can charge AA/AAA NiMH batteries and ReCyko (NiMH) batteries
* Direct plug-in design
ReCyko+ Batteries Available Seperately : AAA 2 Pack $11.50 and AA 4 Pack $29.50
Info / Manual
---
Bulk prices are available on all items, Please login to get bulk prices. Or call 09-8375020 for a price!