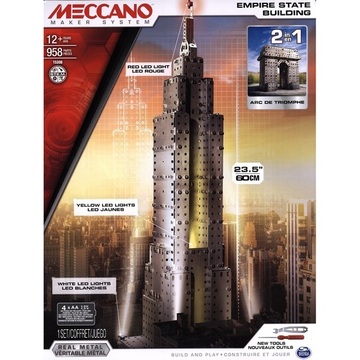 Meccano
Meccano has built a strong legacy as one of the oldest construction systems in the world when it was invented in England by Frank Hornby in 1898. In 1913, a very similar construction set was introduced in the US under the brand name Erector. Today, these two great brands have joined forces under one...
See more from this brand...
MECCANO Signature Serries - Empire State Building
# Clearance ## Below Cost Price ##
Product Code: M4902
| | | |
| --- | --- | --- |
| Buy 1+ | $99.00 | (incl. GST) |
# Clearance ## Below Cost Price ##
Take your imagination to dizzying heights as you explore the real world of engineering with the Meccano Empire State Building 2-in-1 Model Set. Recreate one of the world's most iconic monuments with this life-like version of the famous early 20th century skyscraper – once the world's tallest building. Using the integrated LED lights and the electronics system included in this set, you can create your very own light show to make your scale model of this famous New York City attraction light up Big Apple-style! Once assembled, your famous tower can be dismantled and remodeled into another unmistakable landmark: Paris' Arc de Triomphe. Explore the mechanical wonders of the world as you recreate some of architecture's finest achievements with Meccano. Complete your collection and expand your landscape with the other sets in the series, each sold separately.
Features
958 Durable metal parts, colored LEDs, real tools and step-by-step instructions.
Rebuilds into the famous Parisian monument, the Arc de Triomphe.
Empire State Building measures 23.5" tall. Footprint is 9" by 9" wide. Arc de Triomphe measures 7" tall. Footprint is 3.5" wide by 6" long.
For ages 12 and up. Batteries not included.
Bulk prices are available on all items, Please login to get bulk prices. Or call 09-8375020 for a price!