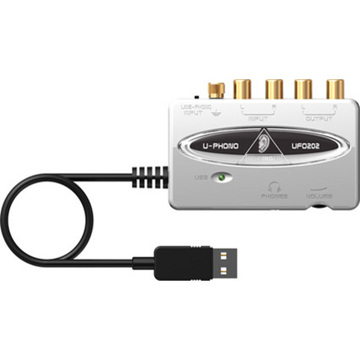 Behringer
Behringer is an audio equipment company founded by Uli Behringer in 1989, in Willich, Germany. Behringer was listed as the 14th largest manufacturer of music products in 2007.[3] Behringer is a multinational group of companies, with direct marketing presence in 10 countries or territories and a in a...
See more from this brand...
Behringer UFO202 Audiophile USB/Audio Interface
with Built-in Phono Preamp for Digitalizing Your Tapes & Vinyl Records
Product Code: BEUFO202
This product is coming soon, and is due to arrive on or near June 25, 2020
Audiophile USB/Audio Interface with Built-in Phono Preamp for Digitalizing Your Tapes and Vinyl Records
-High-quality USB/audio interface connects your turntable, cassette player etc. with your computer for recording and playback
-Transfer and restore your valuable vinyl records and tapes to your computer via a simple USB connection
-Audacity vinyl restoration, noise-reduction, editing and recording software plus comprehensive podcasting software available for free at behringer.com
-Phono input switchable to line input source
-Stereo output allows easy connection and playback of computer audio files over your home sound system
-High-resolution 48 kHz converters for high-end audio quality
-Stereo Headphone output with dedicated Level control lets you monitor your input source
-Works with your PC or Mac computer—no setup or drivers required
-Powered via USB—no external power supply needed
-High-quality components and exceptionally rugged construction ensure long life
Bulk prices are available on all items, Please login to get bulk prices. Or call 09-8375020 for a price!