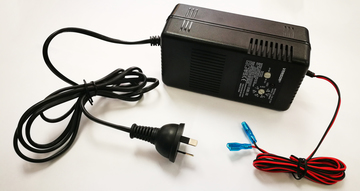 Sealed Lead Acid Battery Charger - Variable Current
Charges 6 and 12 Volt Batteries - 1300mA
Product Code: BAT0138
This product was discontinued on May 21, 2020.
Sealed Lead Acid Battery Charger - Variable Current 
Charges 6 and 12 Volt Batteries - 1300mA Charge rate .
BAT0138 Sealed Lead Acid battery Charger 6/12V 
Variable Current - 900ma-1300ma 
Vanson LA-612V
Suitable for 6 and 12 Volt Sealed Lead Acid Batteries up to 14Ah Capacity.
Bulk prices are available on all items, Please login to get bulk prices. Or call 09-8375020 for a price!