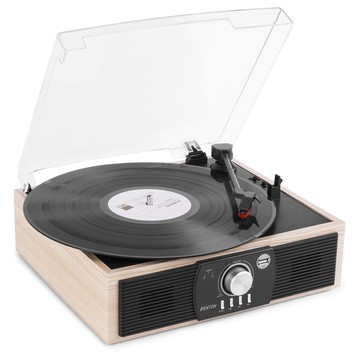 Fenton

Fenton offer a wide selection of speakers and portable PA systems that cater to all budgets. Their feature laden active speakers are unique in the market, giving you all the best features like bluetooth connectivity, wireless microphones, battery power, built in LED lighting and onboard MP3 These a...
See more from this brand...
Record Player with Bluetooth Lightwood
Built-in Stereo Speakers
Product Code: 102.141
This product is out of stock. It will be available soon.
RP175LW Record Player Bluetooth Lightwood
Listen to your favourite vinyl with this authentic classic design 2-in-1 turntable record player completed with a wood veneer (PVC). This turntable is fully-featured with all the modern technology you expect; built-in speakers, Bluetooth streaming, stereo headphone jack, AUX in and RCA output.
Built-in stereo speakers
Using Bluetooth wireless technology for audio streaming
Belt driven turntable mechanism
Ceramic Stereo cartridge with stylus
3-speeds for 33 1/3, 45 and 78 RPM records, incl. adapter
Manual or automatic stop tone arm (on/off switch)
Plays 7'', 10'' and 12'' records
3.5mm AUX input
Headphone output
Cabinet with light wooden veneer (PVC) texture
Replacement Stylus for all Fenton Record Player available for $9.50 each ( code 102.116 )
Please note, although this player is capable of playing 78 RPM it requires the right needle. The needle supplied is suitable for 33 and 45 speeds only.
SPECIFICATIONS
| | |
| --- | --- |
| Stylus | Ceramic Stereo cartridge with stylus |
| Speed | 3-speeds for 33 1/3, 45 and 78 RPM |
| Power supply | 12V / 1000mA |
| Dimensions | 315 x 273 x 124mm |
| Weight | 2.0kg |
Info / Manual
---
Bulk prices are available on all items, Please login to get bulk prices. Or call 09-8375020 for a price!