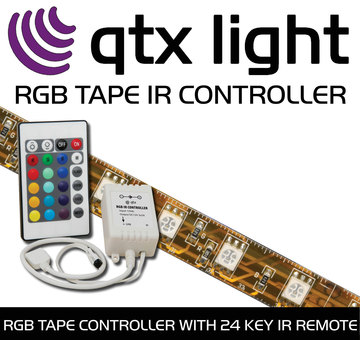 QTX

Launched in 2009, QTX is predominantly a professional lighting brand. Ideal for clubs, bars, schools and theatres, its comprehensive product portfolio covers everything the market demands, from domestic party lighting to cutting-edge effects for installation use. The QTX brand also includes a range...
See more from this brand...
Controller for RGB LED Tape - W/IR Remote
24 Key Remote
Product Code: 153.741
This product is coming soon, and is due to arrive on or near June 9, 2020
RGB TAPE CONTROLLER WITH 24 KEY IR REMOTE

RGB controller for LED tape operated by an IR remote control for selecting the static colour, brightness or colour changing operating mode.

    Ideal for use in small applications
    16 preset static colour modes
    4 different colour changing modes of operation
    Adjustable brightness

    Supplied with small handheld IR remote
    IR remote controlled up to 10m (in line of sight)
    Mounting points for attachment to a wall or other surface

Power     12Vdc
Power connection     2.1mm dc
Max current per channel     3 x 2 amps
Dimensions (Remote)     85 x 55 x 8mm
Dimensions (controller)     35 x 50 x 25mm
Weight (remote)     21g
Weight (controller)     30g


Info / Manual
---
Bulk prices are available on all items, Please login to get bulk prices. Or call 09-8375020 for a price!