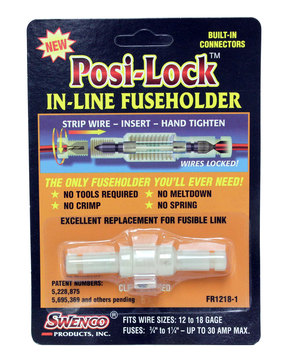 Posi Lock Fuse Holder No Crimp Connectors Fast Strong
Fuse holder x 1 12 to 18 AWG
Product Code: SWE017
inline fuse holder for 30mm glass fuse
Fits 3/4" - 1 1/4" fuses to 30 Amps Max
The best connector you will ever use

Will not pull apart, will not vibrate loose and will not melt down. plus it is reconnect able and reusable.

- No tools required
- Re-usable
- 4 times stronger than crimp connectors
- High temp and chemical resistance
- Weather resistant brass core
- One connector fits 4 wire gauges

3 easy steps -- Strip wire --- Insert -- hand tighten

We have bulk available in various pack sizes to suit all needs

more info at http://www.posi-lock.com

Unlimited uses
Military Vehicles
Boats
Marine Equipment
Pumps
Gauges
Outdoor Lighting
Car Alarms
Locks
Lawnmowers
Farm Equipment
Ceiling Fans
Car Stereos
... and much more!
Bulk prices are available on all items, Please login to get bulk prices. Or call 09-8375020 for a price!