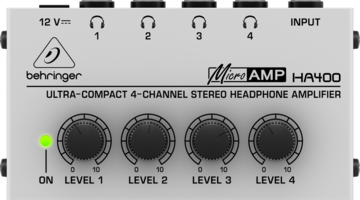 Behringer
Behringer is an audio equipment company founded by Uli Behringer in 1989, in Willich, Germany. Behringer was listed as the 14th largest manufacturer of music products in 2007.[3] Behringer is a multinational group of companies, with direct marketing presence in 10 countries or territories and a in a...
See more from this brand...
Behringer HA400 4-Channel Stereo Headphone Amplifier
Ultra-Compact
Product Code: BEHA400
This product is coming soon, but the arrival date is yet to be confirmed.
The Behringer MicroAMP HA400 is a very inexpensive, miniature 4-channel headphone amplifier. for stage or project studio use. The unit is equipped with separate operational amplifiers for each channel, and individual channel level controls.
Ultra Compact 4-channel headphone amplifier with individual channel level controls
4 separate low-noise 4580 op-amps(operational amplifiers) for efficient, maximized output levels per channel
Power On LED
DC 12V adapter included
Bulk prices are available on all items, Please login to get bulk prices. Or call 09-8375020 for a price!