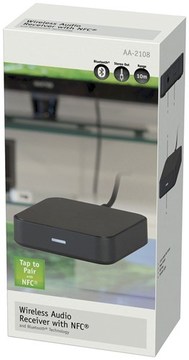 Digitech (Australia)

See more from this brand...
Audio Receiver with NFC and Bluetooth Technology
Product Code: EAA2108
This product was discontinued on January 30, 2020.
Stream music from your Bluetooth® or NFC® enabled Smartphone or Tablet directly to your stereo system or stand-alone speakers wirelessly. It is easy to setup and allows you to control the music from up to 10m away. Power can be supplied using the included 5V power supply or from a USB port on a stereo using 1.9m USB lead. A 1.8m male to male 3.5mm audio lead and a 3.5mm female to 2 x RCA lead are included to connect the receiver to the audio input of your speaker system.

Features:
•    Bluetooth® 4.0v with SBC® support for high quality stereo audio
•    Up to 10m transmission distance
•    Can work with non-NFC® equipped devices
•    A2DP Bluetooth® profile supported
•    Audio stereo output
•    Stores up to 8 device ID's

Specifications:
•    Bluetooth® version: 4.0
•    Power: 5V (power supply included)
•    Dimensions: 58(L) x 58(W) x 15(H)mm
Bulk prices are available on all items, Please login to get bulk prices. Or call 09-8375020 for a price!