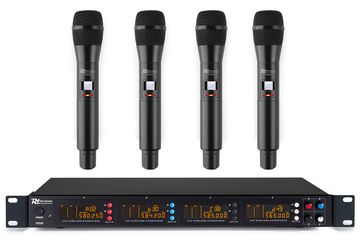 Power Dynamics

Power Dynamics speakers are great for live sound systems, DJ speakers, big speaker systems for pubs, clubs and good, deep bass tones with an optional Power Dynamics subwoofer. Unlike expensive PA systems and brands, Power Dynamics is an affordable option for large PA systems, for big parties, and is...
See more from this brand...
4x 50-Channel UHF Wireless Microphone Set
with 4x Handheld Microphones
Product Code: 179.004
This product is out of stock. It will be available soon.
---
PD504H 4x 50-Channel UHF Wireless Microphone Set with 4 handheld microphones
This impressive sounding Power Dynamics UHF 4 microphone wireless system allows you to operate 4 microphones at the same time. The reciever is colour coded allowing for quick identification making the job of your sound man to make adjustments while the mics are being used on stage super easy. Excellent sound quality for vocal and PA applications.
4x Handheld microphones with mute function
4x 50 Selectable non-interfered UHF channels
IR data transmission for channel selection
4x balanced XLR outputs
CPU controlled
PLL oscillator
Transmitters with display showing the frequency and battery low indication
Equipped with Dynamic LCD
Supplied in aluminium carrying case
SPECIFICATIONS
| | |
| --- | --- |
| Operating frequency | 550 Mhz to 585 Mhz |
| RF output | <10mW |
| Frequency response | 60Hz - 18kHz |
| Frequency stability | <15ppm |
| THD | <1% |
| Signal to noise ratio | >97dB |
| Battery | 2x AA (handheld) |
| Power supply | 230VAC / 50Hz |
| Receiver:Dimensions | 235 x 420 x 44mm |
| Microphone:Dimensions | 250 x ø 51mm |
| Receiver:Weight | 1700gr |
| Microphone:Weight | 400gr |
Info / Manual
---
Bulk prices are available on all items, Please login to get bulk prices. Or call 09-8375020 for a price!